Classes of 1964 - 1967
Austin

High School

| Chicago, IL
Final Event of Walk Illinois 2014
The final event relating to my walk last year through the state occurred on Friday April 24th, 2015, when 'Walk Illinois 2014' was officially recognized with the presentation of a ceremonial check to the Vietnam Veterans of America at their annual State of Illinois delegate meeting in Springfield. I was honored to be the guest of the State Council where I was asked to give a brief talk describing the planning and execution of my walk. The final donation total was $23,560.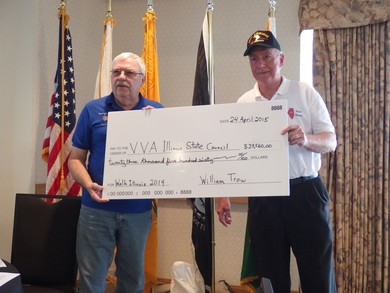 I would like to say one final thank you to everyone who acted as a host, pledged and donated, or provided encouragement to assist me in completing my endeavor. I am confident that a number of veterans have received meaningful help from your generosity. To all of you, please accept my most sincere and heartfelt appreciation. Bill Trow (Class of 1965)
~~~~~~~~~~~~~~~~~~~~~~~~
Who's Going to the 2015 Reunion??
Check this page often as it will be updated periodically.
Click here to see the 2015 Reunion Information and to Register.
TO THE OFFICIAL WEBSITE OF
AUSTIN HIGH SCHOOL, CHICAGO, IL
CLASSES OF 1964 - 1967
This site is free! You will never pay a yearly fee!

This is a private and permanent site for all Austin High School Alumni who graduated in 1964,1965,1966,& 1967 and/or left Austin before Graduation, finished at another school and/or moved away.
From another graduating class in the 60's? Use the Contact Us link with your class year in the subject line, we will add you to our database. If your graduating class is from the 60's and would like to join the site, please contact the Webmaster using Contact Us and we can discuss how you can become part of the site.
Learn how to join the site by clicking here.
You Are All Welcome Here!
IMPORTANT: Before joining the site, please click here to read the Membership Disclaimer, the Privacy Policy & the Website Policies page.
~~~~~~~~~~~~~~~~~~~~~~~~
ANNOUNCEMENTS

~~~~~~~~~~~~~~~~~~~~~~~~
Registration is Now Open for the 2015 Reunion
The 2015 AHS Reunion for the Classes of 64-67 will be held
Fri, Aug 28th & Sat. Aug. 29th 2015
Maximum capacity at this time is 200.
If the amount of attendees exceeds 200 by April 3oth, 2015, the venue may be able to move us to larger room, space permitting. If not, The Reunion Committee has to cap the attendence at 200.
Click here to register!
~~~~~~~~~~~~~~~~~~~~~~~~
Looking for AHS Memorabilia.
The Memorabilia Committee is looking for anything from our Austin High days.
IE: newpaper articles, pictures, videos, commencement programs, etc etc.
Click here for more information.
~~~~~~~~~~~~~~~~~~~~~~~~
Watch this video to see how our Old Alma Mater has changed!
Austin HS as we knew it is gone!!!
The building and our spirits are still there!!
~~~~~~~~~~~~~~~~~~~~~~~~

END OF ANNOUNCEMENTS
~~~~~~~~~~~~~~~~~~~~~~~~
Webmasters & Class Site Administrators
Darlene Kotrba Christians, Jan. '65, Webmaster
Edward Mahony, June '66, Co-Webmaster
Open Position, Class of '64 Site Administrator
William 'Bill' Trow, June '65
Class of '65 Site Adminstrator &
Military Tribute Coordinator
Edward Mahony, June '66, Class of '66 Site Administrator
Mary Lou Lynch Vacca, Jan. '67, Class of '67 Site Administrator
Would you like to be your Class Site Admin? You need some computer experience. The Webmasters will train you. If you are interested in helping and/or would like more info on how to become your Class Site Admin, use the
Contact Us
link with Site Admin '64, '65, '66, or '67 in the subject line with your contact information. We can always use more than 1 for each class. The Webmaster will get back to you ASAP!
Here's the Weather in Chicago!
The AHS Reunion 64,65,66.org website is not affliated with the AHS Reunion 64,65,66,67 Corporation.
We have had

93755

visitors to the Website.